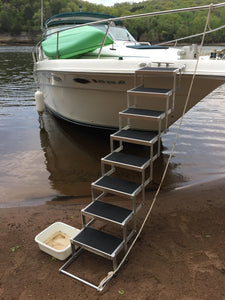 The Ultimate Bow to Beach Ladder
Beach Steps are the ultimate in convenience at the beach. Gone are the days of rickety step ladders and contorted climbing moves to board and disembark!
Designed for cabin cruisers and yachts, Beach Steps provide easy access to and from your boat directly from the beach. The accordion design makes it simple to deploy, and store when not in use. Just pull up on the retrieval strap or rope, and make the line fast to the bow rail so its ready for your next trip to the beach. For longer trips, the Beach Steps can be removed from the bow easily, and stowed safely below deck.
Time on the water is precious, so cut out the stress of using paint ladders and upgrade to Beach Steps today!