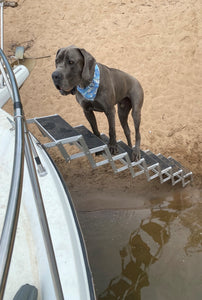 Beach Steps for the Dogs!
Summer is quickly approaching and we're looking forward to getting out on the water with our newest family members - Chad and Jackie! After loosing our 13 year old golden Ginger last summer, we needed another four legged companion. She had some pretty big paws to fill, so we came home with two dogs.... whoops. We can't wait to get see Chad and Jackie run up and down our Beach Steps bow to beach ladder and cover the bow with sand :)
Dogs learn how to use Beach Steps almost instantly. They are so easy to use, that you may find foreign four-legged friends appear on the bow of your boat from time to time. If we are on a busy beach with lots of dogs, sometimes we'll collapse the ladder or re-adjust it to more of a vertical orientation so unexpected visitors can't get up them. Big or small, your dogs will love the addition of Beach Steps to their weekend adventures.
One of our customers shared this photo of Admiral the Great Dane cruising up their Beach Steps. I don't know how he ever got up there without them!
---